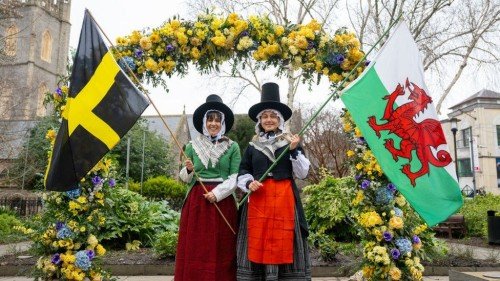 Wales is a beautiful country in the United Kingdom that is rich in culture and traditions. One of the best ways to experience these traditions is by celebrating the many holidays and festivals that are observed throughout the year. In this blog post, we'll explore all the holidays in Wales and what they represent.
New Year's Day - January 1st New Year's Day is celebrated in Wales like in the rest of the UK, with parties, fireworks, and a day off work.

St. David's Day - March 1st St. David's Day is the national day of Wales, celebrated in honor of the patron saint of Wales, Saint David. People wear traditional Welsh costumes, attend parades, and enjoy traditional Welsh food like cawl (a soup made with lamb and vegetables) and Welsh cakes.

St. David's Day is the national day of Wales, celebrated annually on March 1st in honor of St. David, the patron saint of Wales. It is a day when Welsh people all around the world come together to celebrate their heritage, culture, and language.

The Origins of St. David's Day St. David was a Welsh bishop who lived in the 6th century and founded several monasteries in Wales. He is known for his religious teachings and his ability to perform miracles. According to legend, St. David died on March 1st, which is why the day is celebrated as his feast day.

How St. David's Day is Celebrated St. David's Day is celebrated in various ways throughout Wales and around the world. Here are some of the most popular traditions:

Wearing Daffodils or Leeks The daffodil and leek are both symbols of Wales, and it is traditional to wear one or the other on St. David's Day. The daffodil is the more common of the two, and many people wear them as a badge or pin.

Attending Parades and Festivals Many towns and cities in Wales hold parades and festivals on St. David's Day. These events often feature traditional Welsh music and dance, as well as food and drink.

Why St. David's Day is Important St. David's Day is an important day for Welsh people because it celebrates their national identity and their culture. It is a day when people can come together to celebrate their shared heritage and to show pride in their country. St. David's Day is also an opportunity to share Welsh culture with people from other countries, which helps to promote a greater understanding and appreciation of Wales and its people.

Eating Traditional Welsh Foods There are many traditional Welsh foods that are associated with St. David's Day, including cawl (a lamb stew), Welsh rarebit (a type of cheese toastie), and bara brith (a fruit loaf).

Learning Welsh Phrases St. David's Day is a good opportunity to learn some Welsh phrases. The Welsh language is an important part of Welsh culture, and learning a few phrases can help visitors to Wales connect with the locals.

Supporting Welsh Businesses Many people choose to support Welsh businesses on St. David's Day by buying Welsh-made products or visiting Welsh-owned businesses.

Easter - March/April Easter is a Christian holiday celebrated all over the world, including Wales. People attend church services, decorate eggs, and enjoy Easter feasts.

May Day - May 1st May Day is a traditional holiday that celebrates the arrival of spring. People decorate May poles, dance, and enjoy springtime activities.

Spring Bank Holiday - Last Monday in May This holiday is a day off work, often used for family outings, picnics, and trips to the beach.

Summer Bank Holiday - Last Monday in August Another day off work, often used for a final summer outing or to attend festivals and events.

Halloween - October 31st Halloween is celebrated in Wales like in the rest of the UK, with costumes, trick-or-treating, and Halloween parties.

Halloween is a holiday celebrated on October 31st in many countries around the world, including the United States, Canada, and the United Kingdom. It is a time when people dress up in costumes, decorate their homes, and indulge in sweet treats.

History of Halloween The origins of Halloween can be traced back to the ancient Celtic festival of Samhain, which was celebrated in Ireland, Scotland, and Wales. It was believed that on the night of October 31st, the boundaries between the world of the living and the dead became blurred, allowing spirits to cross over into the world of the living. To protect themselves from these spirits, people would dress up in scary costumes and light bonfires.

Over time, Halloween evolved into a more secular holiday, with less emphasis on the supernatural and more on fun and games.

Celebrating Halloween Halloween is celebrated in many different ways, but some common traditions include:

Dressing up in costumes: One of the most popular traditions of Halloween is dressing up in costumes. People of all ages dress up as their favorite characters, from superheroes to ghosts and goblins.

Carving pumpkins: Another popular tradition is carving pumpkins into Jack-o'-lanterns. People scoop out the insides of the pumpkin, carve a scary face into it, and place a candle inside to light it up.

Halloween Safety Tips While Halloween can be a fun and exciting holiday, it's important to take some precautions to stay safe. Here are some tips:

Use reflective tape or wear reflective clothing to be visible to drivers when trick-or-treating.

Don't eat any homemade treats from strangers.

Make sure costumes fit properly to prevent tripping and falling.

Carry a flashlight or glow stick to be visible in the dark.

Check all candy before eating it to make sure it hasn't been tampered with.

Trick-or-treating: Children go door-to-door in their neighborhoods, dressed up in costumes and asking for candy. It is customary to say "trick or treat" before receiving candy.

Decorating: Many people decorate their homes with Halloween-themed decorations, such as fake cobwebs, skeletons, and ghosts.

Halloween parties: Many people host or attend Halloween parties, where they can dress up, play games, and enjoy spooky treats.

Bonfire Night - November 5th Bonfire Night, also known as Guy Fawkes Night, commemorates the failure of the Gunpowder Plot in 1605. People light bonfires, set off fireworks, and enjoy traditional foods like parkin (a spiced cake) and toffee apples.

Christmas Day - December 25th Christmas Day is celebrated in Wales like in the rest of the world, with decorations, presents, and Christmas dinner.

Boxing Day - December 26th Boxing Day is a day off work, often used for shopping, visiting family, or attending sporting events.
In addition to these holidays, there are also regional and local festivals and celebrations throughout the year. For example, the Hay Festival of Literature and Arts is a popular annual event held in the town of Hay-on-Wye, while the Eisteddfod is a national Welsh festival of music and poetry held every summer in a different location.
In conclusion, Wales is a country that is rich in culture and tradition, and celebrating the holidays is a great way to experience these customs firsthand. From St. David's Day to Christmas Day, there are many holidays in Wales that bring people together to celebrate and enjoy the beauty of this wonderful country.